You may recall, awhile ago, actually when I was in Ohio with Daddy, I committed to, and completed, watching 52 films by women in one year. Obviously it was intended to be one a week, though some weeks I didn't take time to watch any movies, and others I watched more than one. Eventually I will post about each of the films I didn't write about back then, but I'm excited to share this one in particular because there is a screening of it coming up hosted by the Los Angeles County Museum of Art.
It's a 1940 film, Dance, Girl, Dance, and co-stars one of my favorites, Lucille Ball.
The story is actually about Judy (Maureen O'Hara) as she plays the complacent, sweet ballerina. But Lucille steals every scene she's in as she portrays a stripper who knows what she wants and isn't afraid to go for it. I always liked the word for this type of courage that also comes up in Nancy Myers's movie The Holiday. Arthur Abbott (oh, Eli Wallach, I'm so sad you are gone!) is having dinner with Iris (Kate Winslet) who has allowed herself to be led on by a former boyfriend who is now engaged to another woman. Realizing Iris's insecurities and inability to kick this guy to the curb permanently, Arthur encourages her to get some 'gumption' like the classic female stars he worked with during the Golden Age of Hollywood.  Actresses like Barbara Stanwyck and Irene Dunne who were tough in the face of adversity, and still maintained their femininity.
Lucille Ball is all that in Dance, Girl, Dance. But the main reason why this upcoming event is so fantastic is because it is very rare to have the opportunity to see a Dorothy Arzner film on the big screen.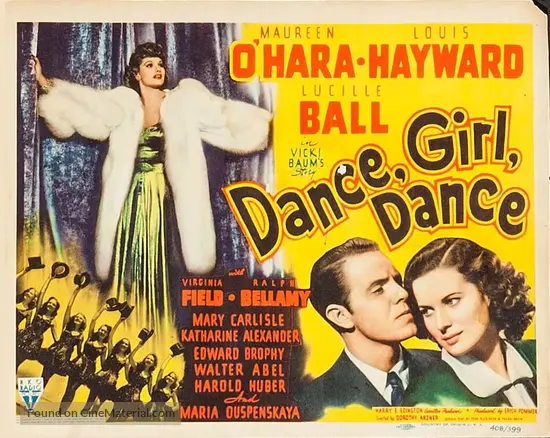 Dorothy Arzner, who had quite a bit of gumption herself, was the first prominent female director after sound came to pictures. As the first, and for awhile, the only, woman in the Directors Guild of America, Dorothy has quite a legacy. Yet, I've never heard of any of her movies being shown in public, including classic movie events. I've only seen a couple of her films because I've managed to track down hard-to-find DVDs in boutique video rental stores or on YouTube.
Back to the showing of Dance, Girl, Dance coming up at the art museum–I'll admit, when it comes to leaving the comfort and safety of my host's home and heading out onto the LA freeways into areas unknown, sometimes I'm hesitant, especially if it is in the evening.
Is where I'm heading in a relatively safe part of town? And always my next question–is there parking? It is tough enough finding parking in this city, but even harder if you don't know your way around. Am I likely to be sitting in tons of traffic where my foot starts to hurt from driving a stick shift? Or am I going to be intimidated on the highway with cars whizzing by me and cutting over super fast in front of me? Am I going to be stuck in a left lane when my exit is rapidly approaching on the right and not be able to get over in time? To all of those questions, the answer is–anything could possibly happen and in some of those cases, especially traffic, it is likely.
But bit by bit, I'm learning how to navigate and make my way along these roads. And the best way to learn is to venture forth, and like Iris in The Holiday, I might need to muster up some gumption to stop clinging to old fears.
So I am going to gather up that courage and yes, I am going to see a Dorothy Arzner picture on the big screen even if it means driving in LA at night to an unfamiliar location where I have no idea yet where I will park.
I am so excited! What an inspiring film to see as I foray into the movie business here in Los Angeles.